AERIAL SCATTERING OVER LAND OR SEA

Scattering by Aircraft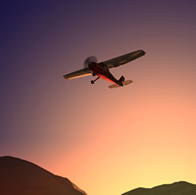 Pacific Coast Ashes at Sea offers offshore scattering by airplane to complement our traditional boat "ash scattering at sea" services.
Perhaps the deceased was fond of, involved with, or otherwise appreciated the beauty and serenity of the Ocean . . . and perhaps expressed a desire to "return to the sea, from which we came." An aerial scattering over the oceans would be a fitting eternal memorial for your loved one's remains. Our scatterings are done with respect, reverence, thoughtfulness and dignity.
The ash dispersal flight will be flown within a few days of receipt of cremains. Due to aircraft size, routings, unpredictable weather, insurance and Federal Aviation Administration rules, we cannot take passengers along on the dispersal flights. However, the exact dispersal location coordinates will be provided on our Certificate of Sea Scattering for your reference.
For information and prices call toll-free 800-900-8188.
( Click for authorization form and shipping instructions )
Pacific Coast Ashes at Sea
800-900-8188 - Fax: 562-983-6883
pacificcoastashesatsea@gmail.com